NinjaTrader's award-winning platform for futures traders includes a Chart Trader, it a feature that allows you to place orders directly from your charts. When combined with ATM, it is a convenient way to enter and manage your trades. You dont have to take your eyes off the market while you trading.
Lets look at the screenshot below
In the default chart trader you can always select Buy and Sell at market price and also you can watch your PnL, weather its in dollar amount or in ticks.
Bounce Trader part of the chart trader is a custom developed chart trader that extends beyond default capabilities.
In your account tab you can select which account you want to trade. If you have multiple accounts to trade you can use trade copier that will be able to copy your trades from leader account to other ones you select.
ATM – NinjaTrader 8 ATM Strategy is a way of automating your trade management. And that's exactly what Automatic Trade Management stands for and for short we'll call it ATM too. With ATM you can automate your take profits, stop loss, number of orders, and trailing. Its a very useful feature to NinjaTrader. ATM is a very sophisticated tool and highly configurable to your needs. You can always create new ATM strategies in NinjaTrader yourself and use it. You can configure it yourself without any line of a code.
Once you are in a position you can always drag active order lines to adjust your TP or SL. You can increase your take profit by dragging it further and you can decrease your stop loss. ATM can be configured in such a way that it will do this for you automatically.
With Bounce Trader you can trade with ease. When integrated with ninzarenko bars you can simply click buy close for example and as soon as bar closes it will trigger your order entry super fast. It removes your latency when opening orders. Bounce Trader for NinjaTrader can also work with time based and tick based charts.
In order to enable Chart Trader, click on chart traader and select chart trader, dont select chart trader (hidden)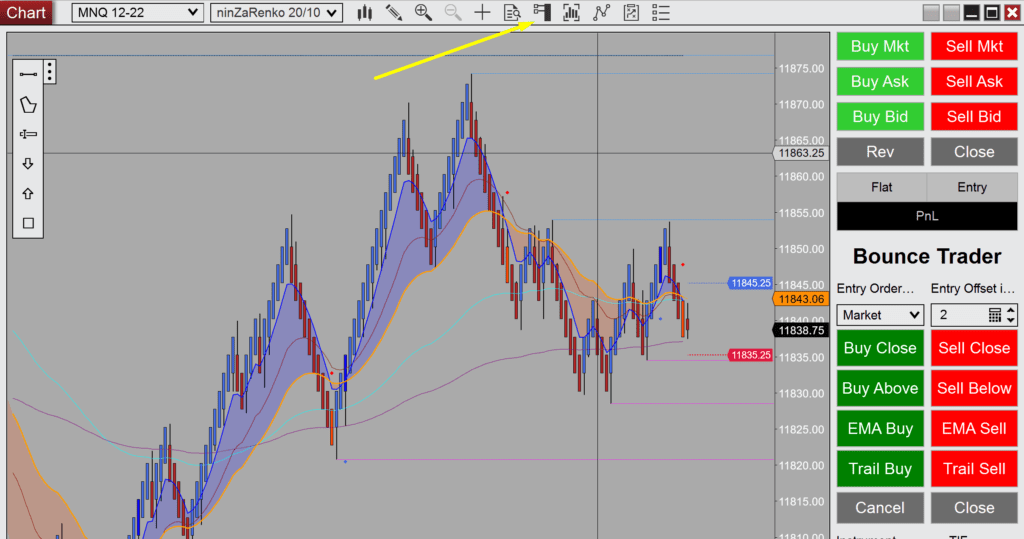 By default under ATM Strategy None is selected. When this option is selected, your order will not initiate or apply to any ATM strategy, no automated stops or take profits will be applied. So change from None to Custom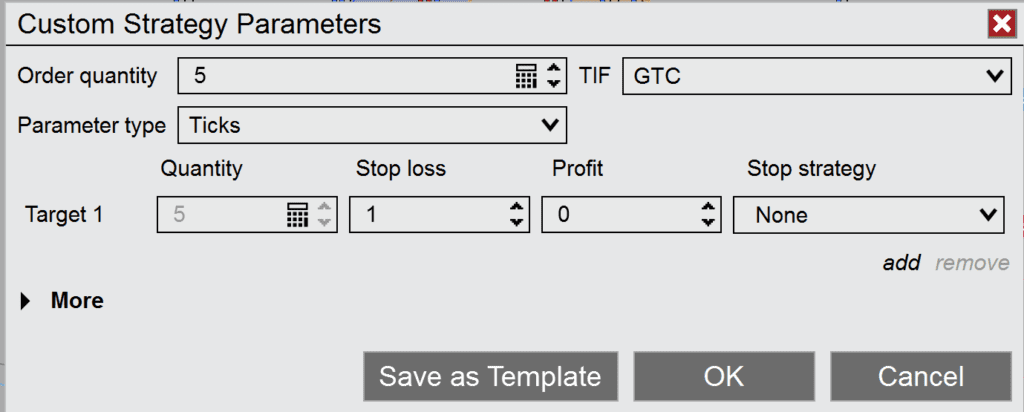 For the purpose of demonstration to configure ATM strategy, we will use parameters to trade 34B strategy. For example select 5 in order quantity, stop loss 42 and profit 20. We dont touch anything else.
Clisk Save as Template. Name your ATM strategy in a meaningful way, we suggest you include instrument name, number of contracts, sl and tp. Click save and this strategy will be automatically selected under ATM
Now when you open an order whether on a default chart trader or on a bounce trader SL and TP and Number Of contracts will be applied.
Official information about NinjaTrader Chart Trader can be found here.